Muslim Chaplain @ QUT
The Muslim Chaplain / Imam is an official visiting staff of QUT and is appointed by the University for religious needs of Muslim students at the University. The Muslim Chaplain, and the Chaplain's Team of Volunteers, organise and take care of Prayer Room and Worship needs of Muslim students at the Campus.
Some of the main roles of the Muslim Chaplain / Imam and the Chaplain's Team of Volunteers are the following:
To maintain the Prayer Room areas provided at the Gardens Point (GP) Campus and the Kelvin Grove (KG) Campus

The Friday Prayer (Jumu'ah) at QUT

Ramadan Taraweeh prayers and the Iftars

To be available for religious advice ("pastoral care") for Muslim students at the Campus

To write letters, on behalf of QUT Muslim students' religious needs, to QUT Examinations or others when an exam may clash with Friday Prayer or Ramadan obligations.
At, QUT, the University has provided Jumu'ah Prayer facility at Kelvin Grove Campus only and not at Gardens Point Campus due to limitations there.
Friday Prayer at Kelvin Grove Campus:
Time: 1pm to 1:40pm
Venue: Level 2, Sports Court;
44 Musk Avenue, Kelvin Grove
(Nb: Opposite Woolworths).
For more details & Other Friday Prayer Venues near QUT, please click here.
Taraweeh Prayers are held daily during Ramadan at:
* GP Prayer Room
* KG (Varies from year to year, plz see updates for the Venue and Time for this year.
About Iftar at QUT
* Iftar is held on many days at both KG and GP Campuses at QUT.
* Muslims like you donate money for the daily Iftar because the Prophet (s.a.w) said that by doing so you get the reward of every person's fast! Donating for one day Iftar can get you the reward of over a 100 people's Ramadan fast of the day!
* Please click here for details about donating or attending Iftar.
If you have exam scheduled at time of fasting in such a way that it makes it very hard for you to do the fast, or the Friday Prayer, please see the Muslim Chaplain for a letter informing the University of the situation.
Friday Prayer at QUT will recommence
Jumuah Salah
Jum'uah prayer is held every Friday at the Level 2 Sports Court 44 Musk Registration is essential. Please see here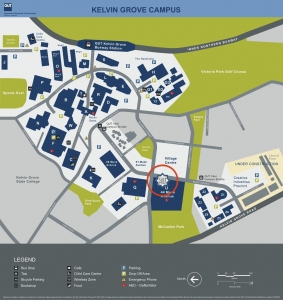 Other Jumuah Salah

Places below may be closed due to covid
Venue
Address
West End Mosque
12 Princhester St, West End QLD 4101

1pm – 1:40pm

Brisbane City
1st floor, 138 Albert Street, Brisbane
1st session: 12:20 pm
2nd session: 12:50 pm
*No wudu facility at the venue
Brisbane City
187 George St, Brisbane CBD

1st session : 12:15 pm to 12:25 pm

2nd session : 12:35 pm to 12:45 pm