IMPORTANT UPDATES. PLEASE READ
It is compulsory to register via Event Brite to attend the Friday Prayer. This will allow us to plan for the prayer.
Face mask is COMPULSORY to attend the Friday Prayer.
We are now back to 1 person per 2 m2.
There will only be ONE session of Prayer from 1pm to 1:30pm (Khutbah) and Prayer finishes at 1:35pm
All previous covid requirements still apply and the Prayer is now limited to 100 people only.
Date: 25-2-2022. Registration opens every Tuesday and ends at 9 am Friday each week
NEW Location: KG-G2 Kelvin Grove (See Photo Below)
Please
register by clicking the link Below
QUT Session 1, 1 pm to 1:35 pm: https://www.eventbrite.com.au/e/274022547817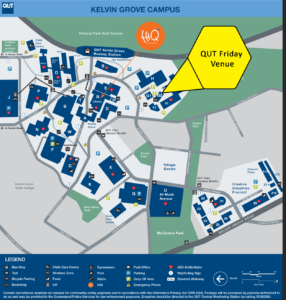 Below are the requirements that all attendees must abide by:
You must not attend the Friday Prayer if

You have returned from overseas or been to any declared hot spots for the last 14 days

You have been in contact with a positive COVID-19 case and you have been instructed to self-quarantine.

You have been tested for Covid-19 and are awaiting a result.

Show any of the following symptoms

Sore throat

Coughing (Productive)

Runny nose

Shortness of Breath

You must bring your own prayer mat and NO entry is allowed without a prayer mat.

Please do wudu at your house or other location as the bathroom/wudu facilities will be closed.

Do not congregate at the beginning and at the end of Friday Prayer.

We recommend you bring your own personal hand sanitiser.

Agree to abide by current health guidelines from QLD health.

Agree to follow any instructions given by volunteers on the ground.